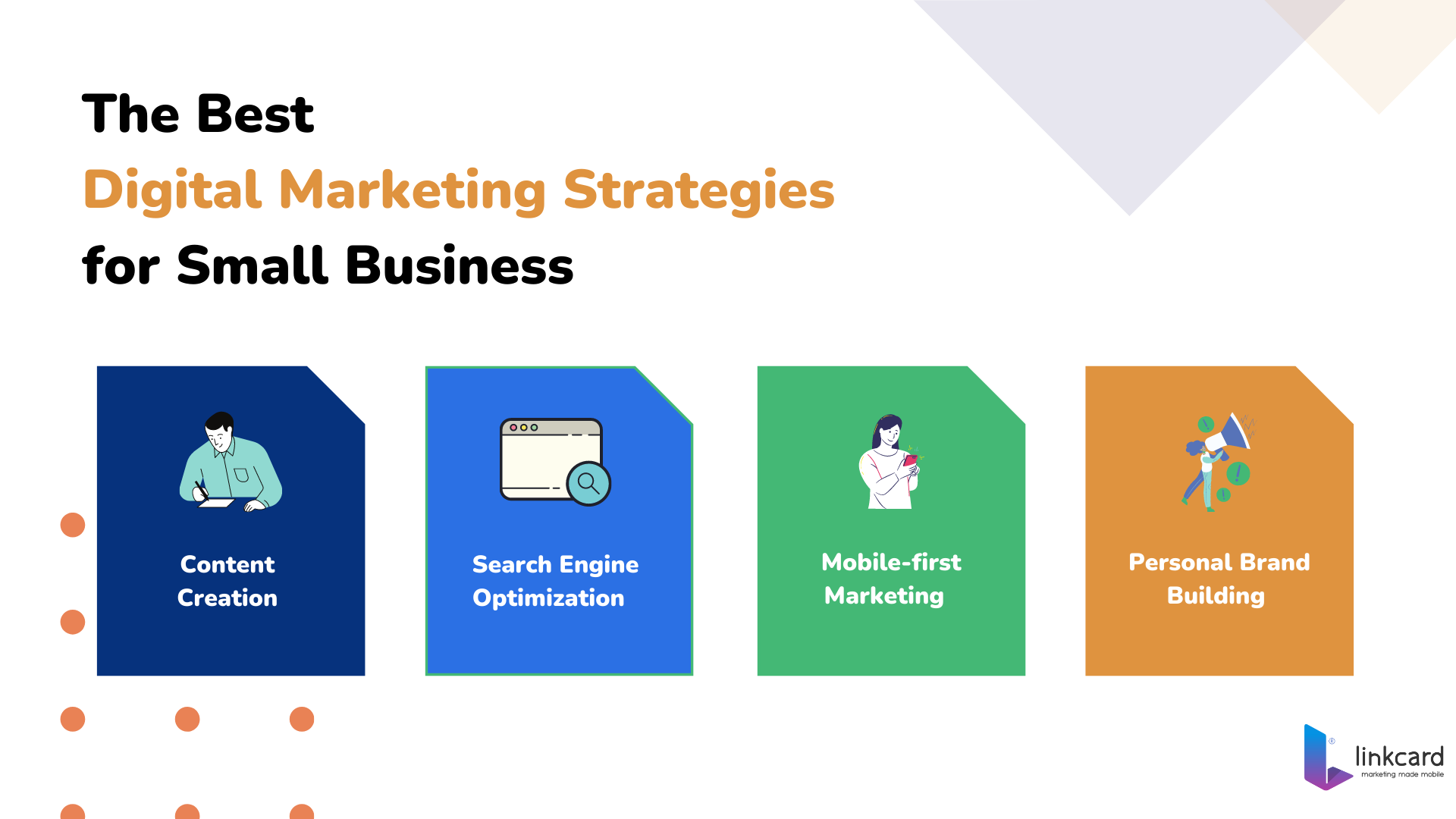 Because of the increasingly important role of tech in our lives digital marketing strategies have become an essential part of any business. To reach your target you must create a strategy made for digital channels and invest in developing your presence in them. Rather than seeing this as a burden small businesses should see it as an opportunity since digital gives them a wider audience and possibilities. 
There are plenty of ways you can start to use digital marketing to your advantage and they don't have to be groundbreaking or budget-breaking plans. Use what you have and adapt it to a known strategy or create something yourself. 
Here is a brief step by step on creating a digital marketing strategy
1. Build a marketing team 

2. Create and define your brand 

3. Collect and analyze your data

4. Find your target personas 

6. Set SMART goals, which stands for specific, measurable, achievable, realistic, and timely goals

7. Choose one or more digital actions, like the ones on the list below 

8. Create a strategy around those actions 

9. Set a budget 

10. Go for it!
Now let's take a look at some of the best digital marketing strategies you can start with for your brand.

Content Creation 
Content creation is one of the best and least expensive digital marketing strategies you can try . Where you create content in order to reach your consumer base and introduce them to your products and services through it. 
How effective is content in digital marketing strategies? 
Let's see a recent study by Aberdeen found that websites that focus on content marketing can boost their conversion rates by almost 6x. That's pretty significant for a small business and it's great numbers for any type of marketing strategy. 
The ten-step content marketing strategy
1. Determine what you want to achieve with the content, brand awareness, product sales, etc. 

2. Conduct target research and figure out who will be consuming your content. 

3. Go over what content you have, and how you can revamp and use it. 

4. Choose a content platform, like our

Digital Cards

, social media, blogs, etc. 

5. Pick the types of content from written to video. 

6. Build your content creation team with writers, creatives plus visual creators.

7. Have a brainstorming session for content ideas, collect and organize the best.

8. Plan content in advance, we suggest at least 3 months ahead.

9. Create, publish and manage the content. 

10. Monitor and collect data to improve. 
Search Engine Optimization  
SEO is an important part of the digital success puzzle and can have a huge impact on how many see your site and get directed to your brand. 
Why is SEO one of the greatest digital marketing strategies? 
Search Engine Optimization is a set of practices and techniques that you can use to place your site and its content higher on search engine's response. Meaning your article on "Best running shoes of 2022" will appear to users before others depending on your SEO. 
This is a great way to make sure your small business gets the visibility it needs but be warned, it is in constant change and can be quite a headache at times. SEO best practices are all about offering users the best experience and giving them the top results for their search. 
The bottom line here is, that creating quality content with researched bases, images, and useful, is what's going to rule SEO. The other things that will help you here are knowing what keyword you want to use and picking the right opportunities to get some traffic. 
Mobile-first Marketing  
More than half of internet traffic now comes from mobile devices. So planning and focusing on mobile marketing can be a great way to get ahead for small businesses. This type of marketing is all centered around mobile channels and creating top designs, interfaces, and content made for that format. 
Make sure that your websites, blogs, graphics, and all content can adapt to mobile so that users can get the best of your brand right in a handheld format. 
Using Linkcard for mobile marketing 
The main thing for mobile marketing is to create authentic, great mobile experiences like the one Linkcard templates offer. 
You can build mobile sites for almost any purpose with our platform, increasing your presence on mobile and highlighting events, products, and more. Go to Linkcard and expand your mobile marketing strategy!
Personal Brand Building 
Small businesses are personal and require a closer touch than huge brands and corporations, that is where personal branding comes in. It is a marketing strategy that builds awareness and value around the personal brand of the people who are part of the company. 
Having the founder, CEO, marketing head or intern take part in communicating their values and the brand's personality can go a long way. We are in the age of storytelling and influencer media, what better than turning your own people into influencers and brand ambassadors. 
Including things like branding workshops, graphics for social media, and support for employees that want to take part can create a whole new marketing strategy for your company. 
Email Signature Marketing 
Email signature marketing is one of those personal branding actions that Linkcard can help you with, you can create one for every member of your staff. So that every email comes with an extra marketing punch!