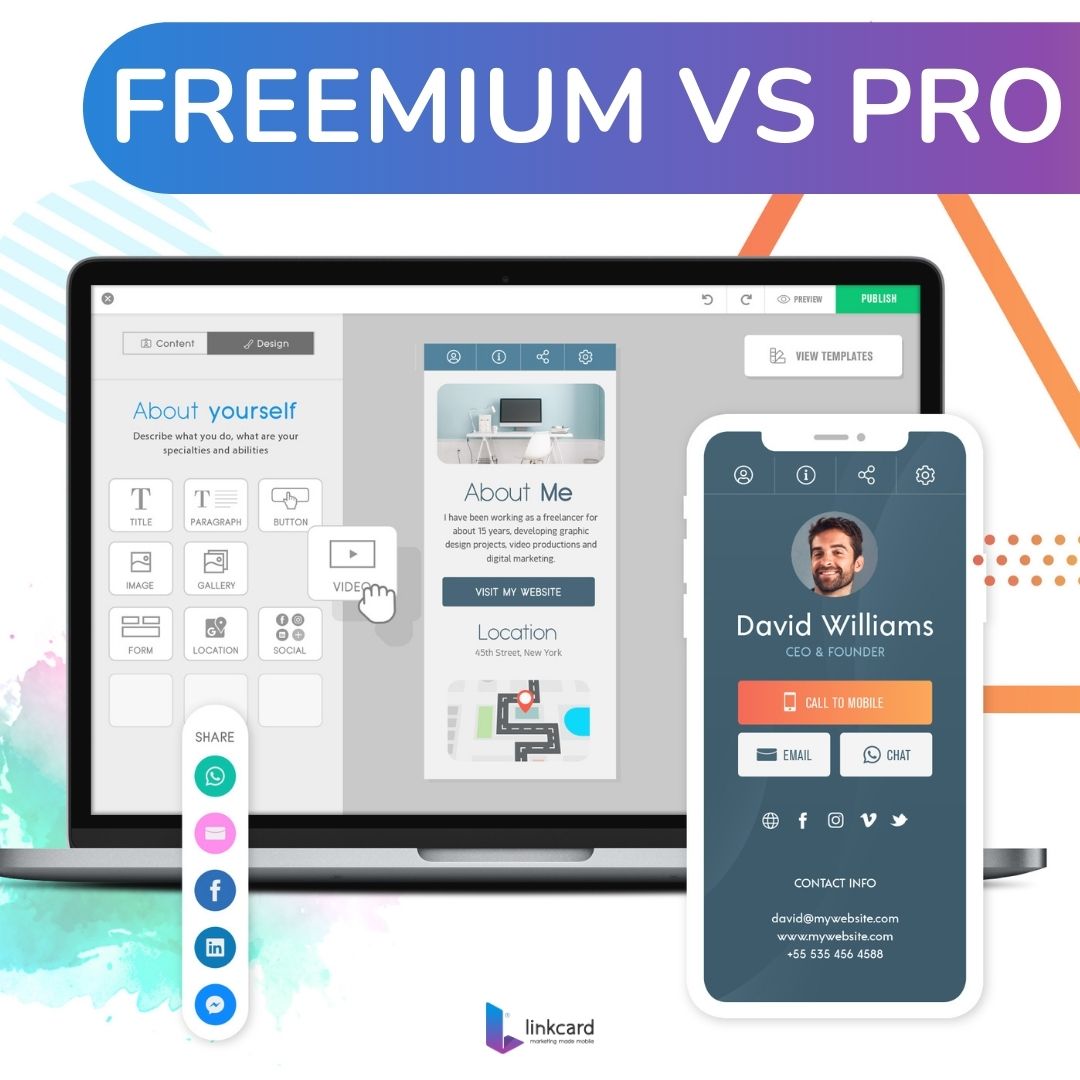 Benefits of Linkcard Pro vs Freemium 
Linkcard's microsite and digital marketing platform have many uses and different formats available to users. So, how can you decide what's right for your objectives? Do you want the freedom to create with PRO tools? Or can you meet your goals with one site from Linkcard? We'll help you figure it out!
What is Linkcard? 
Linkcard is a no-code website builder and digital marketing tool. That means you can create and personalize microsites on your own with no developer or designer needed. 
Since most businesses and professionals now need to have websites, it is one of the most useful and easy-to-use options you will find. We have made micro-site building accessible while remaining functional and stylish. 
Using Linkcard you can create a microsite in minutes and you can choose your plan to do so!
What can you do with Linkcard Freemium?
Linkcard's Freemium plan is the starter plan for the platform. It has the basics in terms of design and digital tools. This is a great plan to get you familiar with the uses of microsites and create your own. 
So, here's what you get with Freemium 
1 micro-site site (also known as "mobile site" "mini-site" or "one-page website")

Free hosting

Unlimited traffic and page sharing

Basic Content blocks

Basic Design toolkit

Free designer-made templates

Set SEO configurations
You can create one microsite for any purpose using our top-of-the-line designer-made templates, personalize, and headstart your business or personal digital marketing strategy with a live website. 
Who can benefit from Linkcard Freemium?
Linkcard Freemium is meant for first-time users, people with individual digital marketing objectives, and anyone that wants to give Linkcard a try!
It's good for students trying out website resume building for internships, newbie freelancers that want to get their first jobs through a website, businesses that don't require much online presence, and anyone that can reach their objectives with Freemium tools. 
The tools and packages offered in Freemium are more than capable of getting you a great-looking, effective website up and running in a matter of minutes. Armed with a template design by a professional website artist, SEO features, plus free content and design blocks. That means you can make it look and feel how you want it to. 
Students 

New freelancers

Solo-preneurs

First-time portfolio 

Small business 

Beginners 

People that want to get familiar with microsites 
What makes a professional Linkcard plan different from Freemium?
It's in the name. Professional Linkcard plans are a step up from the Freemium package and are targeted toward professional needs. 
Having a professional Linkcard plan gives you ALL advanced tools and possibilities to create even more comprehensive websites with the platform. 
Still just as easy to use, and even more stylish and powerful! 
What can you do with Linkcard Professional?
Well, you can get everything in freemium plus powerful advantages like.
Improved Branding opportunities 
Choosing a Professional plan allows you to get rid of the Linkcard watermark and branding.  Meaning your microsite is going to be completely you from top to bottom. 
Expand your branding to every corner of your website and make a strong statement. 
Analytics 
Data is one of the strongest digital marketing tools available today. It gives you key insights into how people behave on your microsite and what they like about your business or brand. 
Linkcard analytics provides a behind-the-scenes look into visitor clicks and journeys. This allows you to make changes and increase the number of visitors that go where you want them to. That can be directing them to shop or leaving their email for contact. 
Analytics is a key ingredient in a successful marketing strategy and that means if you are serious about your online presence you will want to have this on your package. 
Tracking IDs 
Tracking IDs such as Google Analytics, Google Tag Manager, and Facebook Pixel. Which is another important way of getting data to use for analytics later on. These numbers or IDs allow you to follow journeys on your site, clicks, affiliate links, and more. 
Enabling Tracking IDs can help you follow users on multiple fronts at once. 
Create Templates 
One of Linkacrd's most powerful tools and features is its substantial library of designer-made templates. You can find anything from restaurant menus for QR to design portfolio, but what if you want to make your own template to reuse over time? With a Professional Linkcard account, you can! 
Create your own template from the designs already available, and personalize color, background, text boxes, and more. Then save it and use it again whenever you need it will save you precious time. 
This is a great tool for people working in teams like realtors, staff, or different product launches that have to stay within branding manual rules. 
Build with Linkcard, make it your own, and save it forever! 
PRO tools and design 
Put the PRO in Professional with new and better tools for design and website building. Getting an upgrade on your Linkcard account opens up more freedom to design and make things look exactly as you imagined them.
Unlock text, graphics video, and Google location blocks plus design features that will help you elevate your microsites and make your brand stand out even more. 
Lead capture forms 
Lead capture and management is integral for getting new business in. Having your Linkcard equipped with a lead collection form gives you one more tool for increasing business through your website. 
Linkcard's lead capture forms are made specifically for Linkcard templates, they work seamlessly, and are made to increase conversions. Plus all the data is easy to collect and manage from your Linkcard dashboard. 
Meaning you can have all the lead information from all your Linkcard in one place for easy management and use. 
E-commerce features 
Want to create a mini online store? You can with Linkcard Professional!
When we say this is a step up from Freemium we mean it, not only can you create your brand's website with Linkcard you can also enjoy e-commerce features. 
This means you can sell products and services from your microsite. Create a catalog, price your items, and receive payment safely and easily. 
More control and organization 
Once you go PRO your dashboard will provide increased control over your microsites and added options to get organized. 
You can create and manage your sites in folders for easier visualization. 
Connect Domain & SEO
Want your Linkacrd identified with your company name, you can add your own domain with PRO features and SEO. 
Adding your own domain furthers your branding capabilities, making each Linkcard you have connected to your name or brand. 
SEO features are all about getting and improving traffic to your sites. Using SEO tips and ratings you can change your content to be the most attractive to your targets, and start showing up on searches for your product/service. 
Email Signatures and Banner Marketing
Want to add style to your emails and make each one a marketing opportunity? We've got your back
Email signatures elevate your emails, adding a branding and marketing element to each communication. It allows you to promote yourself, add calendar links for meetings, send seasonal messages, promos, and more!
Plus, you can also create banners to complete your email marketing strategy. 
Complete your contacts book with a QR code 
QR codes have had a boost in use since the pandemic, and now that people are familiar with them they can help you network faster and more efficiently. 
Once you have your PRO account you can access a QR code that's attached to your digital business card, and allows you to save contacts directly into a contacts book in vcf format. 
Who can benefit from Linkcard Professional?
Linkcard Professional is aimed at those expanding their online presence and digital marketing strategies. It can cover as many areas as templates you find on Linkcard so anything from medical distributors to manufacturers and more. Get inspired by this section on use cases.
If you want to create more than one sleek microsite, armed with analytics, data collection, lead generation boosters, and all the top Linkcard features, then this is the plan for you! 
Want to go even further with your digital marketing?
Try Linkcard Business with everything you have in the Professional plus:
Connect up to 3 domains

Folders to organize your pages

On-demand Product Tour

Priority support
Or create a custom Enterprise plan for your whole company!
Login and discover our platform