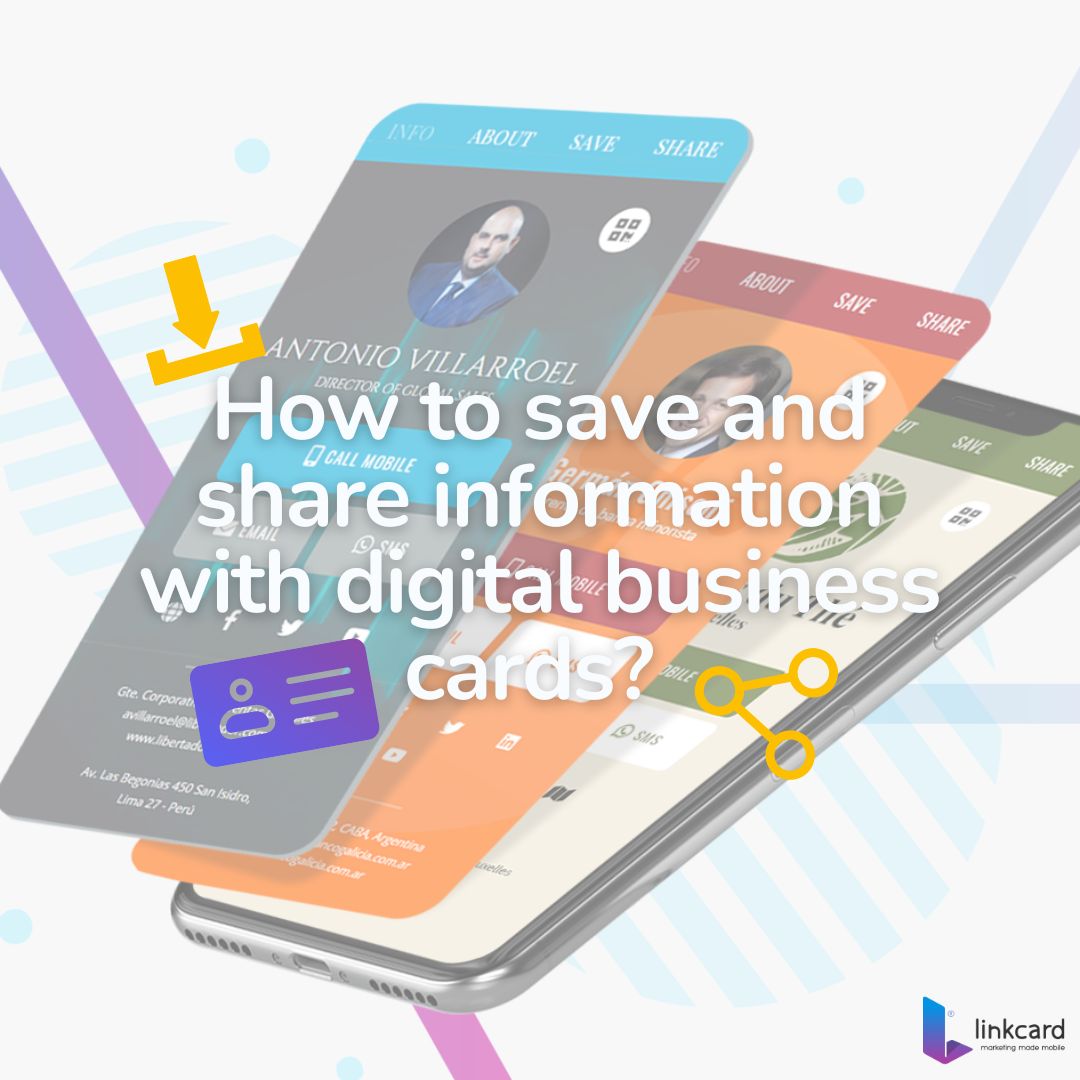 How to save and share information with a Linkcard digital business card 
Digital business cards are the next evolution of business cards, and they are here to stay! As networking and business relations have updated with the integration of emails, LinkedIn, and other digital tools, the paper card has held on as long as it could. However, the time has come to retire the traditional business card for the more versatile digital version. 
Why is the pivot to digital business cards inevitable? 
Seeing and using digital business cards will soon become part of your every day, as online tools become more paramount, having all your networking data available and digital can make an immense difference in how effectively you do business. 
Not only does going digital offer you technological benefits, but it also makes you look good. More updated and savvy, as well as conscious. 
Using digital business cards is more sustainable, adaptable, and useful for any company or professional looking to network with efficiency and style. 
The move from paper to digital is pretty much inevitable at the moment. Saying goodbye to your old business cards will open the door to creating, designing, and taking advantage of all the marketing opportunities of digital business cards. Why would you want to miss out?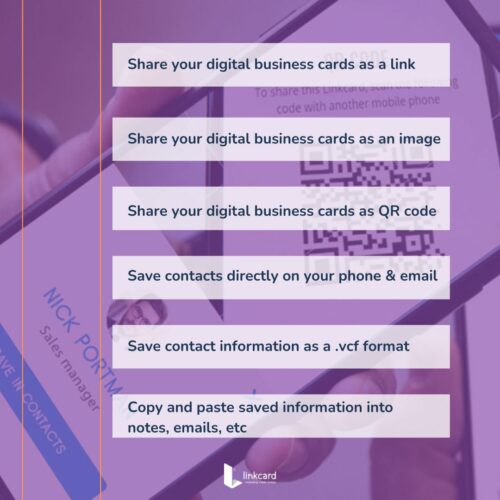 How can you save and share information with digital business cards? 
Going paper free might seem like a challenge for you, and once you are not sure how to tackle it, we are here to tell you, there's no need to worry!
If you are using Linkcard digital business cards you will be able to easily save and share information with your Linkcards. That's what they are made for. 
Here are a few of the ways you can use your digital business cards for saving and sharing information:
Share your digital business cards as a link 

Share your digital business cards as an image with your information 

Share your digital business cards as QR code 

Copy and paste saved information into notes, emails, etc 

Save contacts directly on your phone, email lists

Save contact information as a .vcf format on your computer's address book or Outlook

Track contacts from leads 

Nurture and manage leads 

Use a lead capture form with

Linkcard Pro

accounts 

Share all the information you need from one place

Phone 

Email

Business website 

Whatsapp

LinkedIn and other social media channels 

Calendar for meetings

Share your business cards as many times as you need, never run out

Change, edit, and manage your business cards from the Linkcard platform anytime you need to 
Putting pen and paper aside allows you to easily integrate data from networking into your own CRM systems, contacts agendas, and email list. Get a digital business card for a digital world! 
How can you help your employees transition to digital business cards?
Once you have seen the advantages of using digital business cards you'll want to equip your whole company with them. This will help your business look organized and uniform, plus integrate leads and contacts into one place. 
You can create an enterprise plan with Linkcard that includes the deployment of this tool for your whole website.
Arm your employees with an extra tool to impress and sell, using our professionally designed templates and adding your company branding to them. 
You can also create email signatures from the same cards and add that to your digital marketing arsenal. These allow you to add contact information to your emails, plus promo messaging and more! 
All the benefits of using digital business cards
Let's do a quick recount of all the good things that come with going digital with your business cards, in case you need more reasons to try Linkcard. 
All your information in one card

Add links to websites and social media 

Allows leads to book meetings immediately 

Get lead information organized and digital 

Collect traffic data

Get analytics from your data 

Never run out of cards 

Unify your company brand 

Give all your employees an email signature 

Update and change information whenever you need to 

Impress with a digital, sleek look 

Take advantage of

lead-boosting

tools 
How to create digital business cards for your entire workforce with Linkcard? 
It's easy to go digital with your business cards, if you choose Linkcard all you need to do is:
Choose a Linkcards plan that works for your needs 

Design your digital business 

Activate and share! 
Want to discover more about Linkcard?
Log in and discover our whole platform for FREE!