A bunch of places
to link out to
One of the best things of Linkcard is the possibility of linking it in and out various places such as your website, social media or your online calendar. We are happy to announce a new integration with the x.ai calendar app. In this article, we will present this application, explain how to set it up with Linkcard and show you multiple ways to share your Linkcard.
x.ai app is a productivity tool founded in 2014 that allows you to schedule and manage meetings effortlessly. It is an ideal app for those who do not want to worry about scheduling tasks manually. It can be used either by companies or individual professionals.
If you are curious about how it works, feel free to check this section of their website.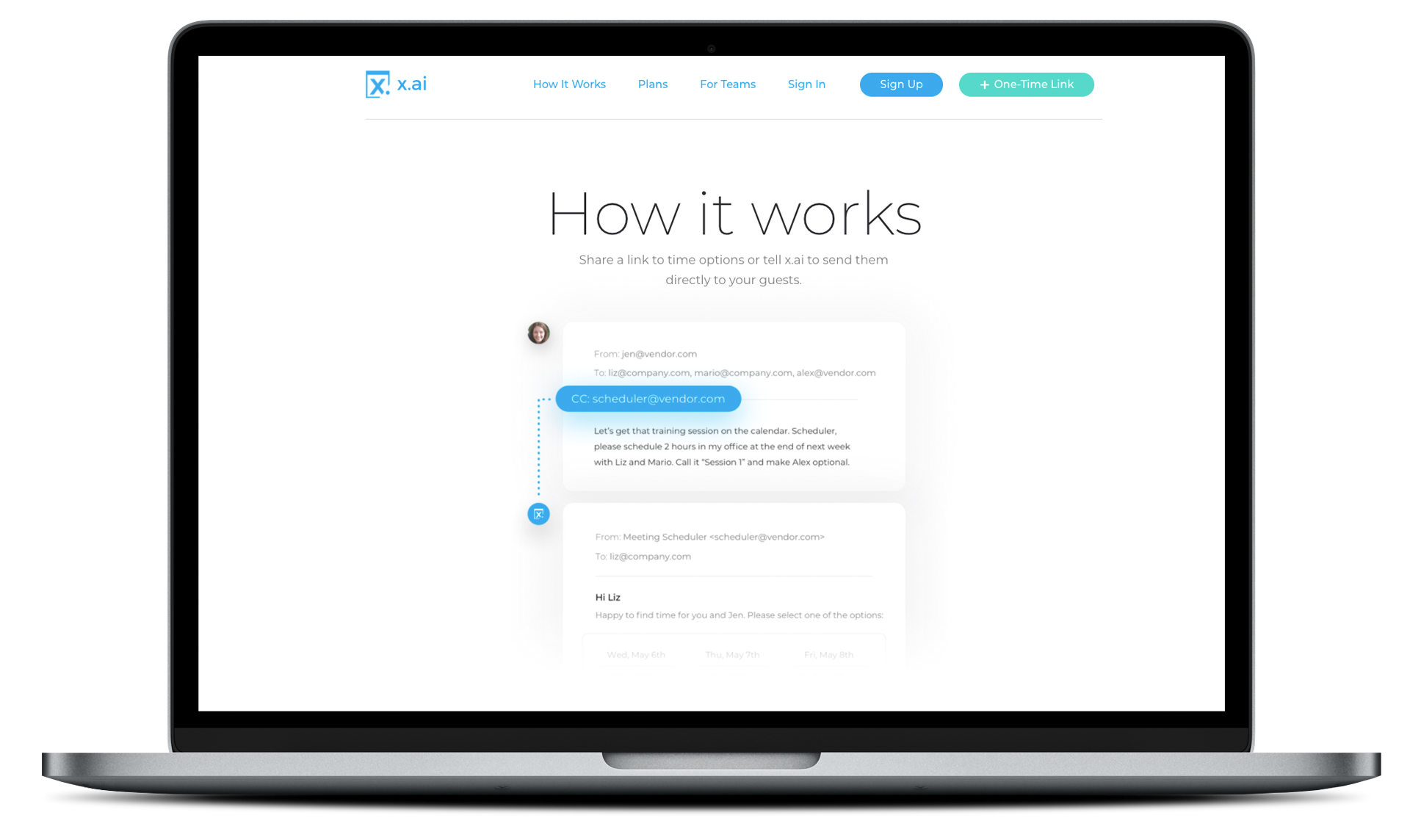 Features that both Linkcard and x.ai have in common
Collaborating with another company adds new features and functionality to your LinkCard  and creates an even more valuable product. In our case, we always choose to work with companies that share our principles in order to be a win for all involved. Let us have a look at the main points we share:
They are both clean, simple and easy to use. Setting up your account will just take a few minutes.

Highly professional and good-looking. I guess this is exactly the impression that one wishes to give.

Personalized link. Both platforms allow you to customize your URL.

Analytics. Valuable data to evaluate the efficiency of your actions on the platform.

Multiple integrations. With just a few clicks, you can integrate them with your favorite tools and apps.
Advantages of the x.ai app integration with Linkcard 
With this integration, we aim at both you and your customer to save time.
No more email ping-pong to schedule a meeting.

No more waste of time designing or updating calendar cards. 

Recording contact details on a database has never been so easy.

Get more leads and opportunities to organize a meeting in just a few clicks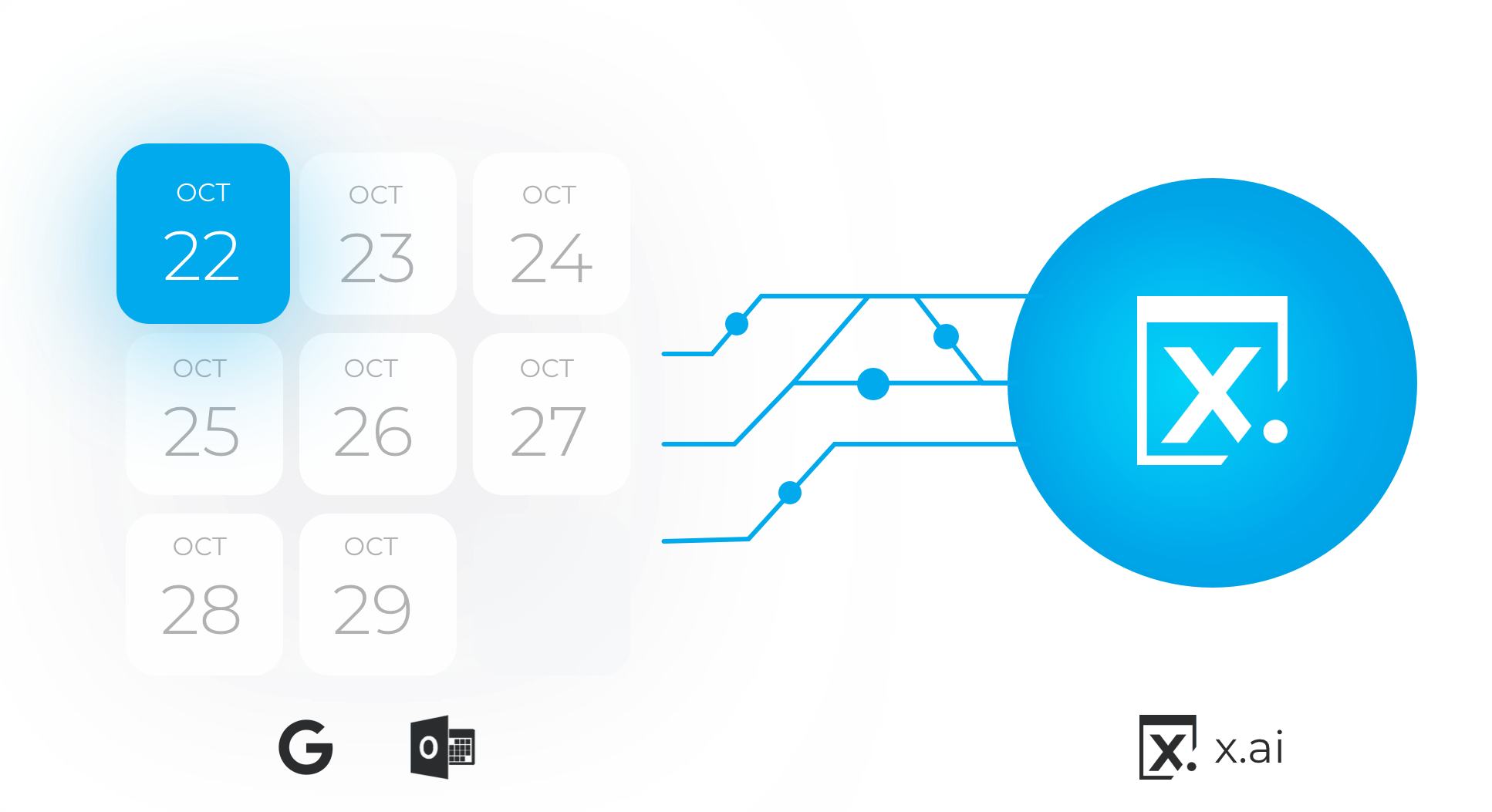 How the x.ai app and Linkcard are connected
To help you add your Calendar Page URLs to your online profiles, x.ai app has enabled a ready-link to Linkcard. Here are the steps on how to access Linkcard from x.ai:
Visit

https://x.ai/

and write your email address to sign up. If you already have an account, then simply click on sign in.

Once you are on your home page

https://my.x.ai/home

click on the pencil icon on the

Your calendar pages

section to associate it with a specific calendar. You may also access by clicking on the Meeting menu on the top section of the page.

Scroll down until you reach the

Embed On Your Website

section.

You will find Linkcard listed under the Add This Calendar Page Link To Your Online Profiles options.

Once you click on Linkcard your URL will be added to your clipboard.
Now let us see how you can include x.ai on your Linkcard. You can either include the calendar URL on the contact information section or in a new content block:
In the Content\Contact\Contact Information section, copy/paste the meeting link you want to include on the box

Calendar

URL.
Add a new content block. On Content\About select the Button block and drop it in the page on your right. Then click on the edit icon and fill in the information on the form displayed on the left.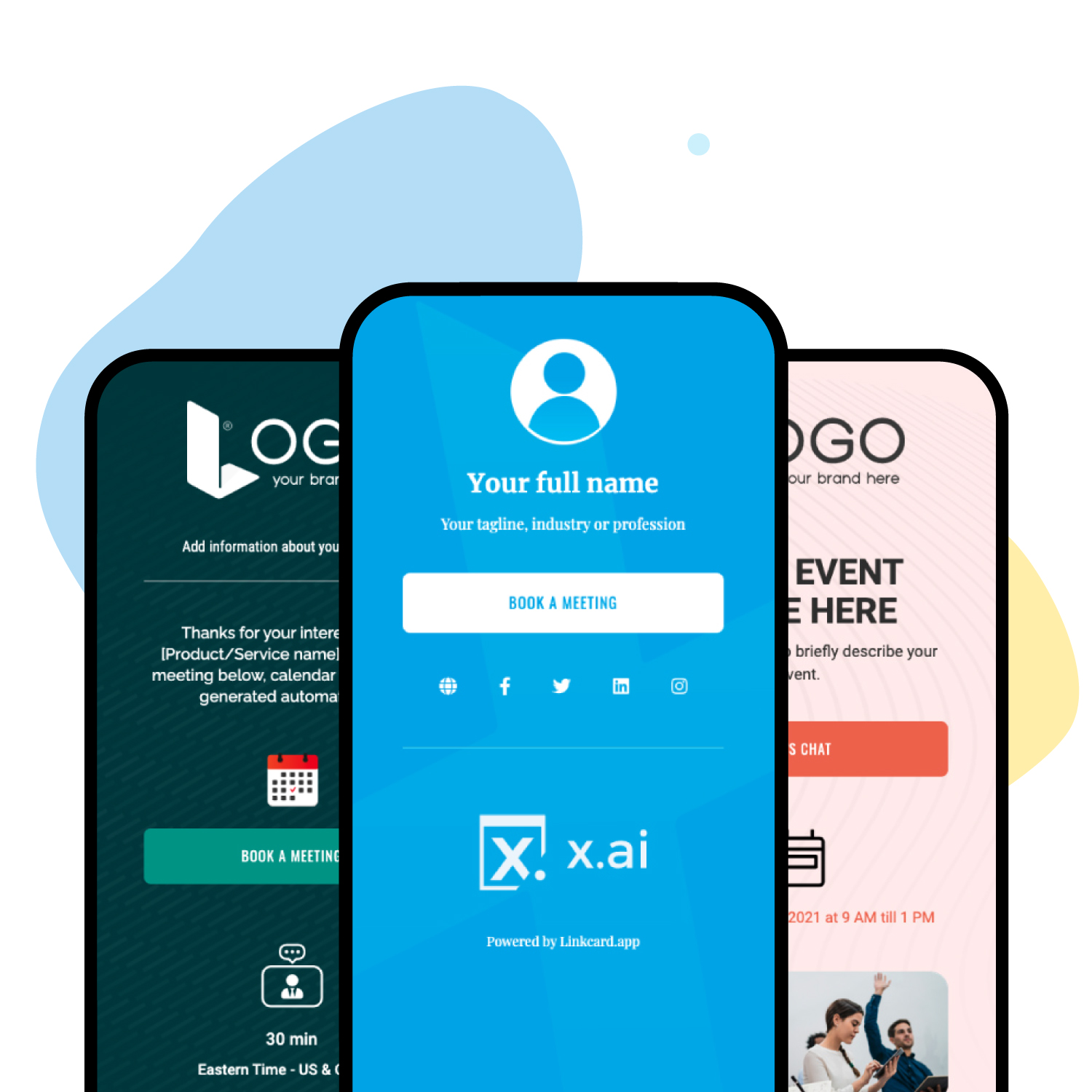 We have created various templates so your contacts, prospects and customers can automatically check your availability. This will definitely help you connect with them and fix your appointments. Choose and customize the one you like best.
Other ways to share your Linkcard
There are several ways you can share and link your Linkcard. Here you have a list of links and contact details you can include:
Social media: Instagram, Twitter, LinkedIn, YouTube, Vimeo, Skype, Behance, GitHub, Snapchat, Google Maps.

Phone number: both mobile and work phone numbers

Address

Email address

Website

Calendar URL
Please note that Linkcard also allows you to monitor the performance of your Linkcard by including the tracking ID's of Google Analytics, Facebook Pixel and Google Tag Manager. Additionally, you may check the Analytics section on your dashboard to see the total number of page viewers, the number of clicks on your links and buttons and number of times your page was shared per network type.
Once you have created your Linkcard and your calendar page gets visits, it can be shared or used the following way:
Download the contact details included in a .vcf file.

Share the URL via WhatsApp, email, SMS, Facebook, LinkedIn, Skype, Reddit, Twitter, Pinterest, Line, Telegram, Messenger.

QR code: scan the code with another mobile phone or download the QR code in .svg format.
If you access to the calendar page through your mobile phone, you can also:
Share it as a message that includes the text on the Position, profession box and a link to the page.
Through AirDrop. Only for iPhone users.
Snapchat.
Finally, there are other ways you can share your calendar page:
Calendar pages can be sent in virtual meetings by means of a QR code included in the background.
Download the QR code in .svg format that links to your Linkcard and include it in your paper business cards.
Via a link on your email signature or even better on your Linkcard email signature layout. Just click on "signature marketing" in the Linkcard dashboard and follow the instructions. We also recommend reading this article on how to synchronise your G Suite account with your Linkcard email signatures.
On your social media profiles: on the YouTube information section of your channel, on your Facebook page or profile information section, with a link on your Instagram bio, with a link on your Twitter bio, with a link on your TikTok business account bio, on the information section of your WhatsApp Business account, on the contact details section of your LinkedIn profile or page, on your Pinterest account, on your Vimeo profile and basically in any other profile you may have in social media.
In the contact details of your website.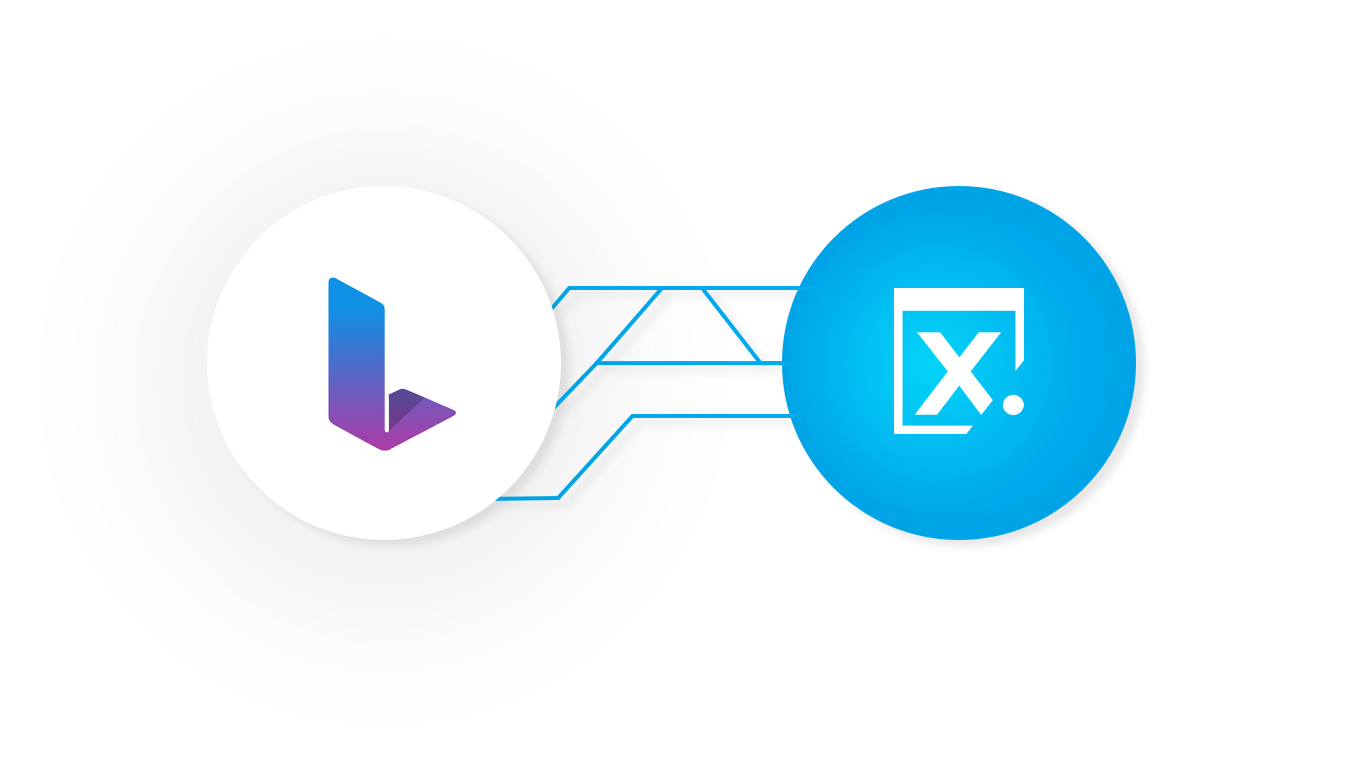 In conclusion, we suggest not missing the opportunity to try this new add on to make the most of using both platforms. Every minute counts, so starting today will mean saving time.
Want to learn more about Linkcard?
Sign in to our website and discover everything about our platform