How to fit all your company needs into a one-page website?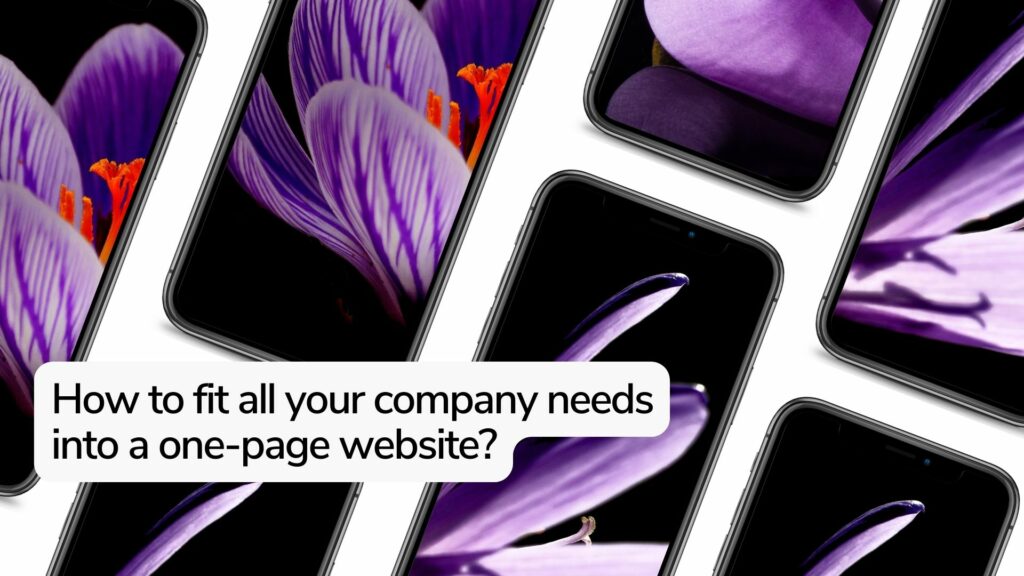 Are you looking into building your own website and don't know where to start? Here's a suggestion: go with a single-page site. You're probably wondering how to fit all your company needs into a one-page website? Let Linkcard help you! We are experts at building amazing one-page sites. 
Any business that wants to attract its target needs a website, just think about how 70 to 80% of people research companies online before making a purchase or visiting a store. 
A website is a window into your company, what you do, who you are, and most importantly why the customers should choose you. 
When should you choose a one-page website?
There are more than enough reasons to build a website. So, why should you go with a one-page site instead of a more complex website? The answer lies in your resources, wants, and needs. There are a ton of benefits to choosing one-page sites over other more intricate website projects. 
5 Reasons why you should go with a single page website
One page sites save time and money 
Building a single-page site will take less time and investment, making them more effective for businesses that need to get websites up and running fast. 
Builds on brand awareness and engagement 
One-page websites, and microsites, create alternative channels for sharing information and other sides of your brand personality. This helps build stronger brand awareness in customers, they can see the other facets of your company and experience your products in different ways.
Having sites for multiple purposes allows users to engage with your brand in more ways. Instead of a simple downloadable brochure, you could create a whole portfolio site for your products and have a more interactive experience to draw consumers in. 
Enhanced user experience 
Single-page sites play with something called cognitive fluency, which is basically the idea that our brains prefer simple and intuitive versus complicated. 
A microsite can enhance that experience for users by offering a simple to the point flow that leads them exactly where they need to be. No visual distractions or overwhelming designs. 
A study from Harvard, the University of Colorado, and the University of Maryland pointed out users don't agree on much but they do agree that simplicity is more pleasing. 
Lead generators 
Creating one-page sites for events, launches and other smaller goals can be a boost for your lead generation. Each of these sites will answer one of your target's needs, improving your SEO spaces and gaming visibility. Because by creating more microsites you can broaden your audience. 
Generate more excitement 
Having a website for all your goals allows you to build more excitement and emotion around what you are promoting. This can help you build more engaging marketing campaigns and collect data behind every effort you make. 
See which products drive engagement, build on data from users and give each of your projects space to shine. 
If these sound like convincing benefits then your pick will be easy. Start building your one-page site!
Go mobile-first 
One of the best alternatives to building a great site for your business is to go with a mobile-first methodology. What is mobile-first design? It's when you create the pages starting from the mobile version.
Most online searches happen on mobile devices, and it already counts for up to 44% of eCommerce sales in the US. Targeting mobile users is smart and will help your brand reach its target. 
Linkcard is a mobile-first creator that works with expert designers and developers to give users the best mobile navigation experience. 

How to create a great one-page website?
The most important thing to remember when creating a one-page website is the space. The length of the site is what determines its content. Because of this, you must make every part of it count and add value. 
Great websites start with a good vision, someone who can lead the project and understands the goals of the site. 
Keep it short and sweet 
You need to get to the point with single-page websites. That means editing and thinking really well about what messages and information you want to share with your audience.  
This helps you sell a well-thought-out brand identity and product. Cutting out unnecessary work and layers. 
Plan a layout 
Think about what you need and what you want your website to have. What is the best way to explain what you do and sell it to users? Figure that out and you have your layout. 
For example, if you are a designer you need a layout that shows your work and your contact info. Let people see what you do and how to hire you. 
Here is a basic layout of a simple website to help you:
Intro → Name and slogan 

What you are selling → Store for products or services

About you → Brief intro or description 

Contact → How to get in touch 
Use a professional template 
Templates are here to simplify your life. Building a website is much easier when you use professional templates. These are pre-made websites that you can just fill information in, personalize with your images, logos plus content and publish. 
Use Linkcard's one-page builder
Linkcard is a one-page no-code website builder. You can create your site or cards, as we like to call them, for pretty much anything. Pick one of our professional templates, add your own touch and go live right away. 
Linkcard has tons of one-page site templates created by professional web designers for every use imaginable:
Portfolio websites 

Home sites 

Business cards 

Online stores

Events 

Newsletters 

So much more!
Fast and easy mobile sites in minutes, get started for free!
Create quality content 
The last pillar of your one-page website is going to be your content. This is where you make your personality stand out. You need to create a lasting effect on the users of your site. That helps visitors buy your product or return to you after browsing. 
Pay attention to the details, choose your images carefully and have a clear motive to direct the page's look. Stay with your brand design line. Add pops of color to make things stand out and images to engage with your target. 
Strong copy and CTA's
Within the content you need to also think about copy and CTA, call to action. These two will determine what your users know about you and how to engage them to do what you want. Think of phrases that identify your company and CTA that will affect actions.